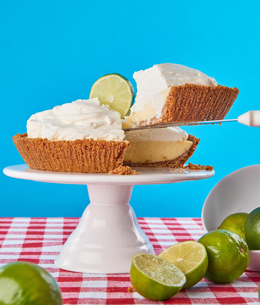 Key Lime
Voted "Miami's Best Key Lime Pie" by the Miami New Times. Made from fresh, hand-squeezed key limes and a crushed graham cracker crust. Smooth balance of sweet and tart.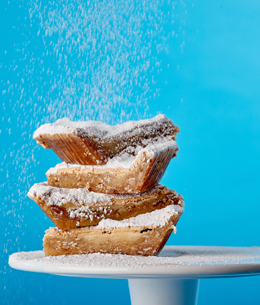 Salted Caramel
This irresistibly ooey-gooey salty-sweet slice is made with an oatmeal crust and pairs perfectly with a hot cup of coffee.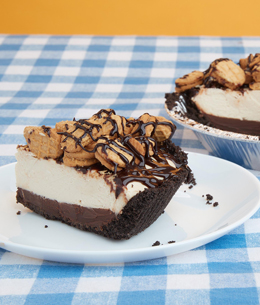 Chocolate Peanut Butter
A decadent peanut butter filling made with creamy peanut butter, cream cheese and whipping cream is spooned into a rich and chocolatey Oreo crust and topped with Nutter Butter cookies and Ghirardelli chocolate sauce.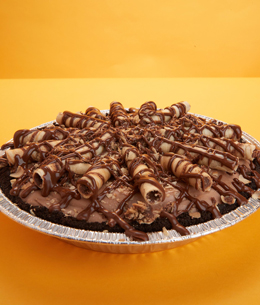 Nutella
Topped with pirouline cookies and drizzled with Nutella, this smooth and creamy sweet Nutella Pie is nestled in a thick, Oreo cookie crust for double the chocolate.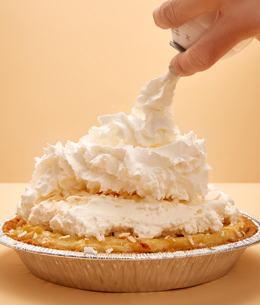 Coconut Custard
Tropical in spirit, this melt-in-your-mouth custard pie has a light, creamy coconut flavor. Topped with fresh whipped cream, toasty coconut flakes and held together in a graham cracker crust.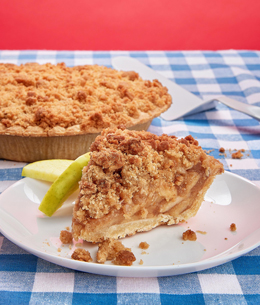 Apple
Our homestyle Apple Pie is topped with a homemade streusel and is best served with a dollop of fresh whipped cream, or warmed with a scoop of vanilla ice cream.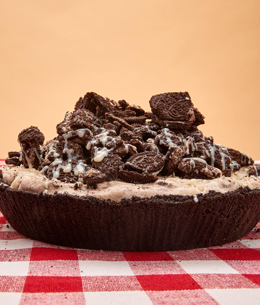 Cookies & Cream
Topped with Oreo crumbles and white chocolate sauce, this chilled, no-bake version of our Oreo Cheesecake is light and mousse-like with a rich, chocolate ganache base and Oreo crust.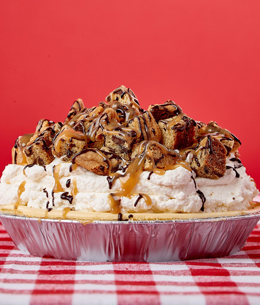 Cookie Monster
This cheesecake-based pie has a nice salty-sweet balance. Made with a chocolate chip crust and layer of crushed oreo cookies and finished off with pralines, whipped cream, chopped chocolate chip cookies, caramel and Ghirardelli chocolate sauce.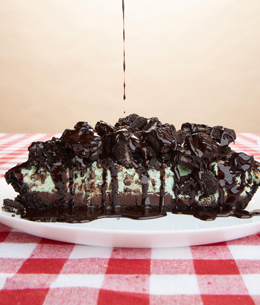 Grasshopper
Nestled into a rich, chocolate Oreo crust, this perfect after-dinner pie is made with a cool and minty-chocolate mousse filling and topped with crumbled Thin Mint cookies and Ghirardelli chocolate sauce.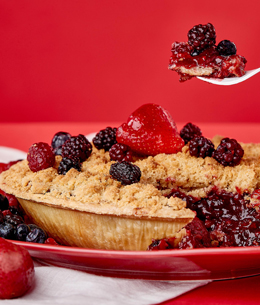 Guavaberry
This unique flavor combo is great for any out-of-towner or local! We give a fresh mixed berry pie a fun Miami twist by adding guava and homemade streusel.
Pecan
We source our Pecans from a family-owned company based out of South Carolina making our version of a traditional Pecan Pie extra special and delicious.
Dulce Banana Cream Pie
An Oreo crust with a delicious base of dulce de leche, topped with FD banana cream, crushed vanilla wafers and a house made caramel sauce.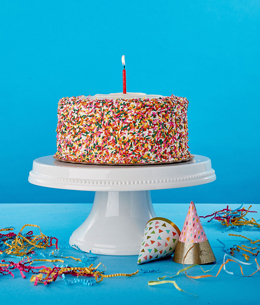 Vanilla Birthday
A triple layered funfetti vanilla cake layered with cream cheese frosting and covered entirely in rainbow sprinkles.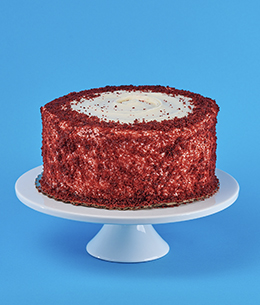 Red Velvet
A silky, southern-style Red Velvet Cake slathered with our cream cheese frosting.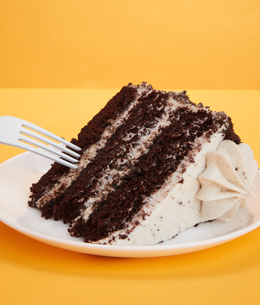 Cookies & Cream
Our decadent chocolate cake recipe frosted with a cookies and cream frosting and topped with chocolate cream cookies.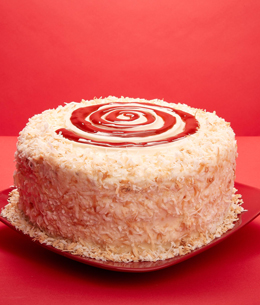 Coconut Guava Rum
A triple layer guava-infused, coconut rum cake with cream cheese frosting and topped with toasted coconut shavings.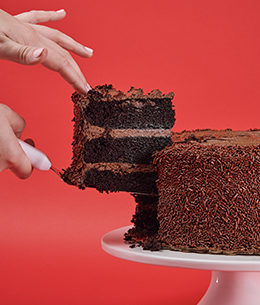 Chocolate
A dense Chocolate Cake layered with chocolate buttercream frosting and topped with chocolate ganache and miniature chocolate chips.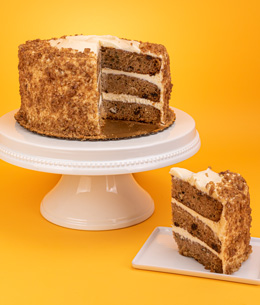 Carrot
Made with freshly grated carrots and layered with a delicious cream cheese frosting, our Carrot Cake is extra moist and flavorful.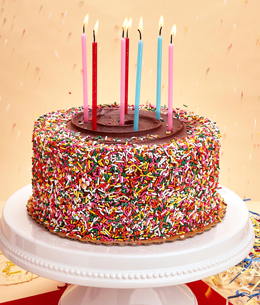 Chocolate Birthday
A triple layered funfetti vanilla cake layered with a rich chocolate buttercream frosting and covered entirely with rainbow sprinkles.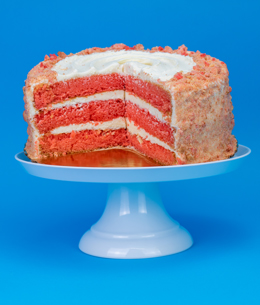 Strawberry Crunch Cake
A strawberry pink cake coated in cream cheese frosting and house made strawberry streusel.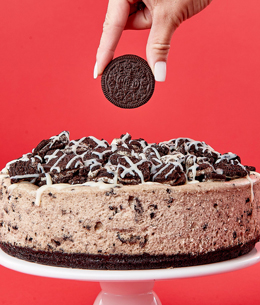 Cookies & Cream
Oreo cookie-infused cheesecake nestled in an Oreo cookie crust and drizzled with white chocolate.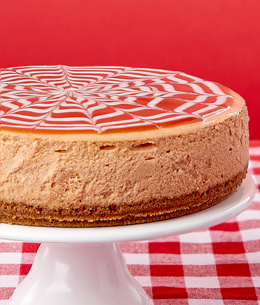 Guava
Dressed with a guava sauce and white chocolate drizzle, this tangy and perfectly sweet guava cheesecake is a South Florida favorite.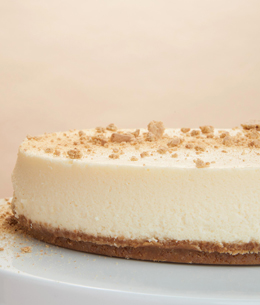 New York Style
A classic, creamy NY-Style cheesecake with graham cracker crust.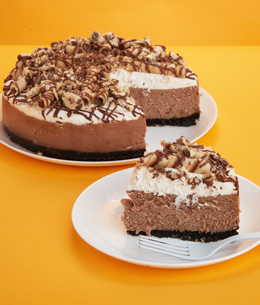 Nutella
This Nutella infused cheesecake is topped with fresh whipped cream, crushed pirouline cookies and drizzled with nutella sauce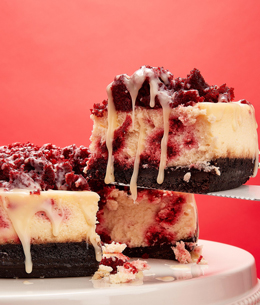 Red Velvet
Chunks of our classic red velvet cake are lightly folded into our signature NY style cheesecake on a chocolate crust, topped with red velvet cake crumbles and a drizzle of white chocolate sauce.
Pot Pies and Empanadas are sold frozen. Bake Fresh at Home!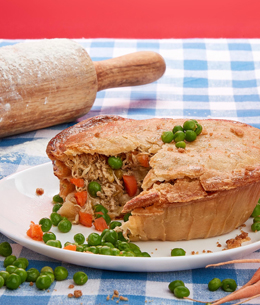 Chicken Pot Pie
Made with shredded chicken breast, cheddar cheese, carrots, peas, salt & pepper, and fresh herbs.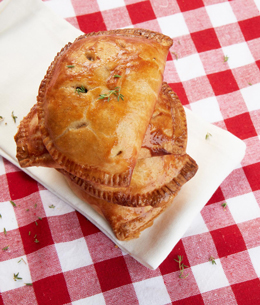 Spinach & Feta Empanada
Spinach and feta cheese baked in an all-butter and flour crust. (Vegetarian)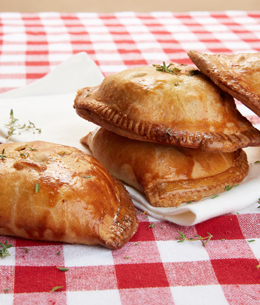 Buffalo Chicken Empanada
Shredded chicken breast, buffalo sauce, cheese, and jalapeño peppers baked in an all-butter & flour crust.